About us

With our many years' of experience advising on prominent and complex China matters and cross-border transactions, our team members have a deep understanding of PRC laws and regulations, and exceptional knowledge of the PRC legal and economic landscape. We support our clients on their most important China inbound and outbound strategic objectives.
We are globally minded while delivering a locally focused service. We strive to provide excellent client service and deliver first-class legal support to international and Chinese clients to help them achieve their commercial ambitions.

Our Shanghai office has already established the firm as a strong brand in the China market. In 2019, we opened a second office in Beijing, marking a further development milestone for our firm, following the formation of our Shanghai free trade zone joint operation with international law firm Linklaters in 2018.
Our Shanghai Free Trade Zone Joint Operation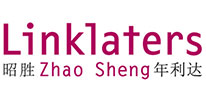 Linklaters Zhao Sheng is a Shanghai Free Trade Zone joint operation formed between Linklaters LLP and Shanghai Zhao Sheng Law Firm.
Linklaters Zhao Sheng brings together Zhao Sheng's high quality PRC law capability and Linklaters' long-standing international experience, to offer our clients an integrated approach to assist their inbound and outbound strategic objectives.